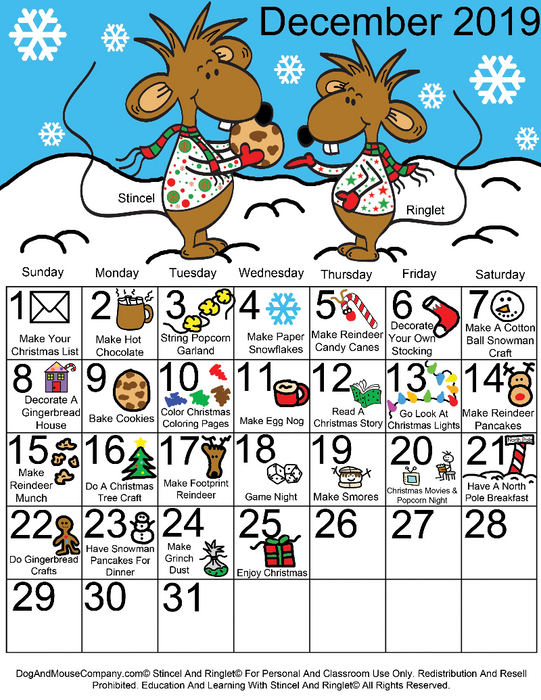 25 Days Of Christmas Activities December 2019 Calendar With Stincel And Ringlet - Printable Digital Download by Dog And Mouse Company
25 Days Of Christmas Activities December 2019 Calendar with Stincel and Ringlet © by DogAndMouseCompany.com ©. This is a printable digital download.
Day 1 Make Your Christmas List
Day 2 Make Hot Chocolate
Day 3 String Popcorn Garland
Day 4 Make Paper Snowflakes
Day 5 Make Reindeer Candy Canes
Day 6 Decorate Your Own Stocking
Day 7 Make A Cotton Ball Snowman Craft
Day 8 Decorated A Gingerbread House
Day 9 Bake Cookies
Day 10 Color Christmas Coloring Pages
Day 11 Make Egg Nog
Day 12 Read A Christmas Story
Day 13 Go Look At Christmas Lights
Day 14 Make Reindeer Pancakes
Day 15 Make Reindeer Munch
Day 16 Do A Christmas Tree Craft
Day 17 Make Footprint Reindeer
Day 18 Game Night
Day 19 Make Smores
Day 20 Christmas Movies & Popcorn
Day 21 Have A North Pole Breakfast
Day 22 Do Gingerbread Crafts
Day 23 Have Snowman Pancakes For Dinner
Day 24 Make Grinch Dust
Day 25 Enjoy Christmas 
DogAndMouseCompany.com© Stincel And Ringlet© For Personal And Classroom Use Only. Redistribution And Resell Prohibited. Education And Learning With Stincel And Ringlet© All Rights Reserved.